Case Counts by County
| | |
| --- | --- |
| County | Dead birds |
| Alameda | - |
| Alpine | - |
| Amador | - |
| Butte | - |
| Calaveras | - |
| Colusa | - |
| Contra Costa | 1 |
| Del Norte | - |
| El Dorado | - |
| Fresno | 10 |
| Glenn | - |
| Humboldt | - |
| Imperial | - |
| Inyo | - |
| Kern | 2 |
| Kings | - |
| Lake | - |
| Lassen | - |
| Los Angeles | 18 |
| Madera | - |
| Marin | - |
| Mariposa | - |
| Mendocino | - |
| Merced | 2 |
| Modoc | - |
| Mono | - |
| Monterey | - |
| Napa | - |
| Nevada | - |
| Orange | 17 |
| Placer | 2 |
| Plumas | - |
| Riverside | - |
| Sacramento | 36 |
| San Benito | - |
| San Bernardino | 3 |
| San Diego | 1 |
| San Francisco | - |
| San Joaquin | 5 |
| San Luis Obispo | - |
| San Mateo | - |
| Santa Barbara | - |
| Santa Clara | - |
| Santa Cruz | - |
| Shasta | - |
| Sierra | - |
| Siskiyou | - |
| Solano | - |
| Sonoma | - |
| Stanislaus | 1 |
| Sutter | - |
| Tehama | - |
| Trinity | - |
| Tulare | 16 |
| Tuolumne | 1 |
| Ventura | - |
| Yolo | 2 |
| Yuba | 3 |
| Total | 120 |
WNV Activity by County
Printable Version
2018 | 2017 | 2016 | 2015 | 2014
2013 | 2012 | 2011
2010 | 2009 | 2008
2007
News
WNV Dead Bird Hotline Update
Apr 16, 2018
The West Nile virus and Dead Bird Hotline is staffed with live operators from 8AM to 4:30PM, Monday through Friday (later we will also be staffed on Sundays). Call the hotline at 1-877-WNV-BIRD to report a dead bird. Or fill out an online report form here:

Report a Dead Bird

Hotline operators will determine if the bird meets criteria for pickup and testing They will arrange for suitable dead birds to be picked up by a local vector control or public health agency for West Nile virus testing. Dead bird reports are very important because they are usually the first indication that the virus is active in an area, and this allows CDPH and local agencies to monitor the virus and implement control measures throughout the year.

Thank you for your report!

Locate your local mosquito and vector control agency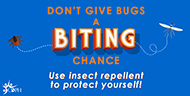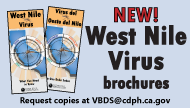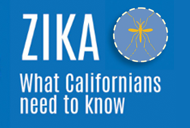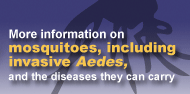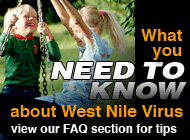 Compared to previous year and previous five-year average to date
As of Sep 13, 2019
2019
2018
5Y AVG
Counties
29
37
39
Human cases
89
79
181
Dead birds
120
430
969
Mosquito samples
2978
1730
2684
Sentinel chickens
89
112
234
YTD - Year to date corresponds to the same time last year or last five years.



- view all 2019 YTD activity -
WNV Reports