Case Counts by County
| | |
| --- | --- |
| County | Dead birds |
| Alameda | - |
| Alpine | - |
| Amador | - |
| Butte | - |
| Calaveras | - |
| Colusa | - |
| Contra Costa | - |
| Del Norte | - |
| El Dorado | - |
| Fresno | - |
| Glenn | - |
| Humboldt | - |
| Imperial | - |
| Inyo | - |
| Kern | - |
| Kings | - |
| Lake | - |
| Lassen | - |
| Los Angeles | - |
| Madera | - |
| Marin | - |
| Mariposa | - |
| Mendocino | - |
| Merced | - |
| Modoc | - |
| Mono | - |
| Monterey | - |
| Napa | - |
| Nevada | - |
| Orange | - |
| Placer | - |
| Plumas | - |
| Riverside | - |
| Sacramento | - |
| San Benito | - |
| San Bernardino | - |
| San Diego | 1 |
| San Francisco | - |
| San Joaquin | - |
| San Luis Obispo | - |
| San Mateo | - |
| Santa Barbara | - |
| Santa Clara | - |
| Santa Cruz | - |
| Shasta | - |
| Sierra | - |
| Siskiyou | - |
| Solano | - |
| Sonoma | - |
| Stanislaus | - |
| Sutter | - |
| Tehama | - |
| Trinity | - |
| Tulare | - |
| Tuolumne | - |
| Ventura | - |
| Yolo | - |
| Yuba | - |
| Total | 1 |
WNV Activity by County
Printable Version
2018 | 2017 | 2016 | 2015 | 2014
2013 | 2012 | 2011
2010 | 2009 | 2008
2007
News
Don't Let The Summer Heat Make You Mosquito Meat!
Jun 8, 2009
Summer is the time when the risk of being bitten by a mosquito carrying West Nile virus (WNV) increases, both outside and inside the home.

Mosquitoes that carry WNV are most active at dawn and dusk, and into the early evening hours. Keep mosquito repellent handy so that each family member remembers to apply it before venturing outside at these times. Use EPA-registered mosquito repellents containing one of the following:
DEET
Picaridin
Oil of lemon eucalyptus
IR3535
And don't forget about your protecting yourself and your family inside your home! Make sure each door and window has a screen without rips, tears, or holes. Even a small rip can allow WNV-carrying mosquitoes to enter your home and bite you.
Following these simple suggestions will help you avoid mosquito bites and let you enjoy the wonderful California summer!
Locate your local mosquito and vector control agency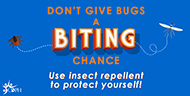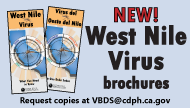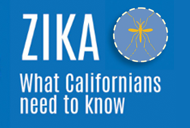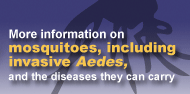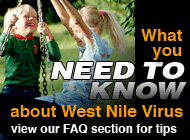 Compared to previous year and previous five-year average to date
As of May 10, 2019
2019
2018
5Y AVG
Counties
4
3
8
Human cases
0
0
0
Dead birds
1
4
12
Mosquito samples
4
1
7
Sentinel chickens
0
0
0
YTD - Year to date corresponds to the same time last year or last five years.



- view all 2019 YTD activity -
WNV Reports